Vigil held for Colorado shooting victims as Austin leaders speak out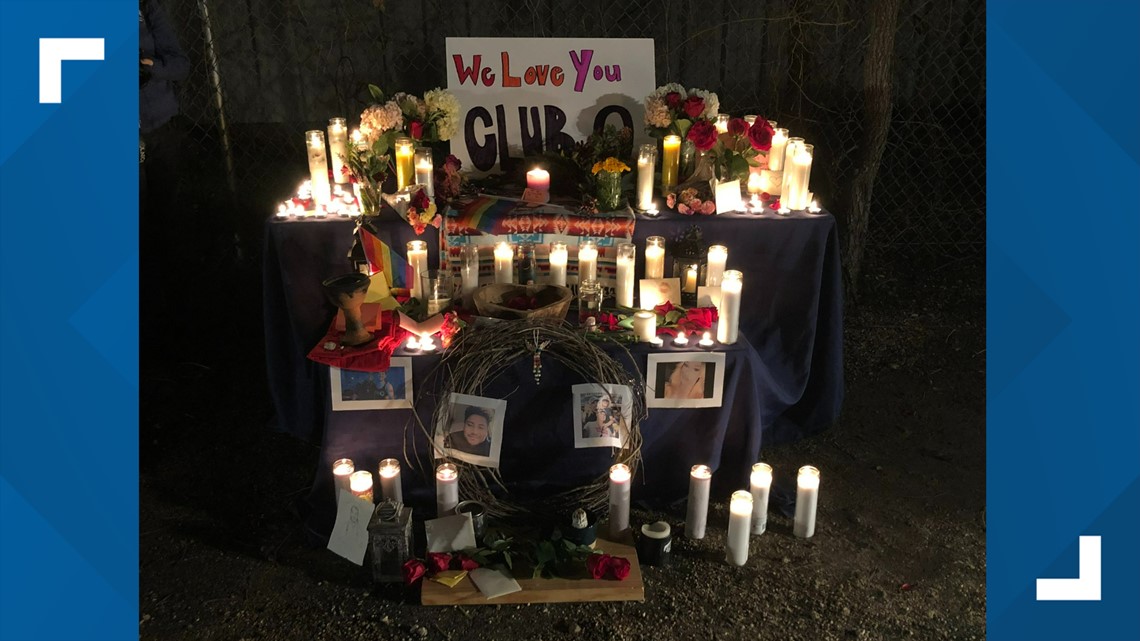 Five people were killed Saturday night when a gunman opened fire on a queer bar in Colorado Springs.
AUSTIN, Texas — To honor the five lives lost in a mass shooting at a Colorado gay bar and other gay lives taken in the violence, The Little Gay Shop in Austin held a vigil Tuesday night.
Given the nature of the mass shooting in Colorado Springs, organizers said there were 20 volunteer security personnel, several counselors and medics on site.
The bags were also checked at the entrances.
During the vigil, several people spoke of their pain and grief for everyone involved.
"In addition to pain, grief, loss and fear, this act of violence happened on the eve of Trans Day of Remembrance," Makayla said, "a sacred and essential day in our community."
"I am sad but also furious," participant Katie said. "If you can hear the tremor in my voice, it's not because I'm about to cry, it's because I'm trying not to scream. I want us to be safe. You all deserve to be here, period. I want to see you all live long, beautiful lives because you deserve it and you are loved."
It wasn't just strangers crying for strangers.
"Daniel and I were online friends for, god, I don't even know how many years," Samson said.
A participant knew a victim.
"When I got confirmation that he was dead, I wished I had looked more into that friendship and told him how much he meant to me and a friend of ours than I did. he helped get surgery," Samson said. "He shared resources and gave support without asking."
Samson continued to tell everyone that they were appreciated and were never afraid to be themselves.
"Because Daniel's life, Kelly's life, Raymond's life, Ashley's life, Derrick's life, they all meant something so much bigger than I think they could have imagined. "Samson said. "It's not because of their murders, it's because of the life they led."
"Moments like this remind us that the only community watching over us is our own," the store wrote on Instagram. "Gay bars should be safe. Gay businesses should be safe. Schools, libraries, restaurants should be safe. Stop the violence. Stop the hate. Stop the guns. Our lives depend on it."
The store also donates 15% of its sales to survivors of the shooting at Club Q and its community.
Five people were killed and 18 were injured after a 22-year-old gunman opened fire with a semi-automatic rifle inside the Colorado Springs club on Saturday night. He was quickly subdued by patrons described as "heroic", then arrested by police and taken to hospital with unspecified injuries.
Reports indicate that an additional handgun and ammo clips were also recovered, and that a patron who was visiting the club with his family was able to grab the shooter's handgun and hit him with it, pinning him to the ground until the officials arrive.
The shooter now faces five charges of murder and five charges of committing a bias-motivated crime causing bodily harm. On Monday, the charges remained preliminary.
The Colorado Springs Police Department identified the five dead as follows:
Daniel Aston (he/him)
Kelly Loving (her)
Ashley Paugh (her)
Derrick Rump (he/him)
Raymond Green Vance (he/him)
The Austin Police Department and Austin City Manager Spencer Cronk have since released statements sharing their condolences and support for the Colorado Springs community.
The City of Austin also recently released new information about improvements to Austin's hate response.
Jason Alexander, Cronk's chief of staff, released a memo Nov. 16 to the mayor and city council providing a response to a resolution that directed the city manager to work with local community groups to identify and implement improvements. to the city's response to hate.
This memorandum responded to questions from the community group ATXKind that were emailed to the City Manager in February of this year. And, since the beginning of the year, city staff members have met regularly with representatives of the grassroots organization formed by Jewish women in the wake of recent anti-Semitic incidents to collaborate and address action points. the resolution.
The resolution calls on the City of Austin to strengthen its efforts to protect residents and victims of hate and to pursue and curb acts of hate in partnership with nonprofits, other government organizations and educational partners. of the region.
Equality Texas, a statewide political advocacy organization that champions the LGBTQ+ community, also released a statement.
"A shameless rebuke of hate compels us all. We must respond to the urgency of this moment and get angry. We can lead with love and joy, but we have a right to be angry, because apathy doesn't win. not battles – action does," said Ricardo Martinez of Equality Texas.

KVUE on social media:Facebook | Twitter | Instagram | Youtube