National economic growth ranks second among G20 countries: minister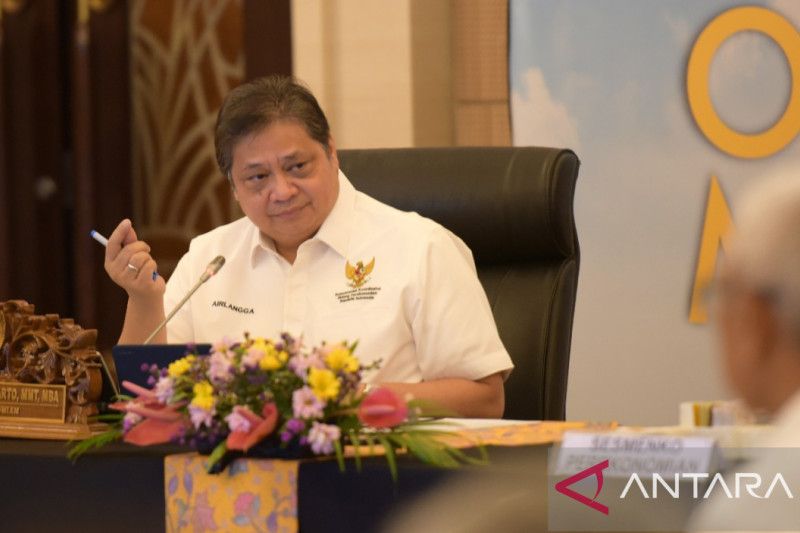 Jakarta (ANTARA) – Coordinating Minister for Economic Affairs, Airlangga Hartarto, said Indonesia is currently the country with the second highest growth among G20 member countries, just after Saudi Arabia.
"With a fairly strong domestic market, Indonesia's economy is also relatively secure domestically, and next year's economic growth is expected to be between 4.8% and 5.2%," noted the Minister in an official press release received on Saturday.
The impressive performance of the Indonesian economy would also continue in 2022, supported by reassuring external factors, so Indonesia was not considered a country prone to financial problems.
However, given the uncertainty and the threat of a global recession lately, the government has continued to take various forward-looking measures and foster optimism for the domestic economy.
To maintain the impressive performance of the national economy and anticipate future challenges, the Coordinating Ministry of Economic Affairs monitors and evaluates the performance of various priority programs by organizing the Offsite Leaders' Meeting for the third quarter of 2022 in Semarang, Java center, October 13-14, 2022.
The activity, led by the minister, was organized to determine the extent of the success of policies or programs that had been carried out by the coordinating ministry of economic affairs. Along with a thorough performance evaluation, various comprehensive improvements would also be made to get the best solution to the pre-existing issues.
Tier I officials, special agents, assistance teams, expert teams and Tier II officials from the Coordinating Ministry of Economic Affairs attended the meeting. Each work unit was asked to list all program achievements, strategic issues and work plans.
Related News: Indonesia's inflation rate among lowest in world: minister
Hartarto also provided presentation-related input and guidance and emphasized that each work unit could develop expected performance with better collaboration.
Other strategic issues were also discussed during this meeting, including the renewal of the G20 Sherpa meeting, the preparation of the concrete deliverables of the G20, the preparation of the leaders' declaration, the preparation of the ASEAN summit, the national strategic projects, inflation control, popular enterprise credit, immunization, food price stabilization, commodity balance, and pre-employment card program.
This time, the meeting was also marked by a review of the readiness status of the Batang Integrated Industrial Zone Development Mega Project in Batang District. At the event, Hartato was accompanied by Minister of Industry Agus Gumiwang Kartasasmita as well as several Tier I officials from the Coordinating Ministry of Economic Affairs and the Ministry of Industry.
Related news: Strong growth momentum in Indonesia this year: AfDB