Economic Tour Shows Joplin's Strong Manufacturing and Warehouse Base | Local News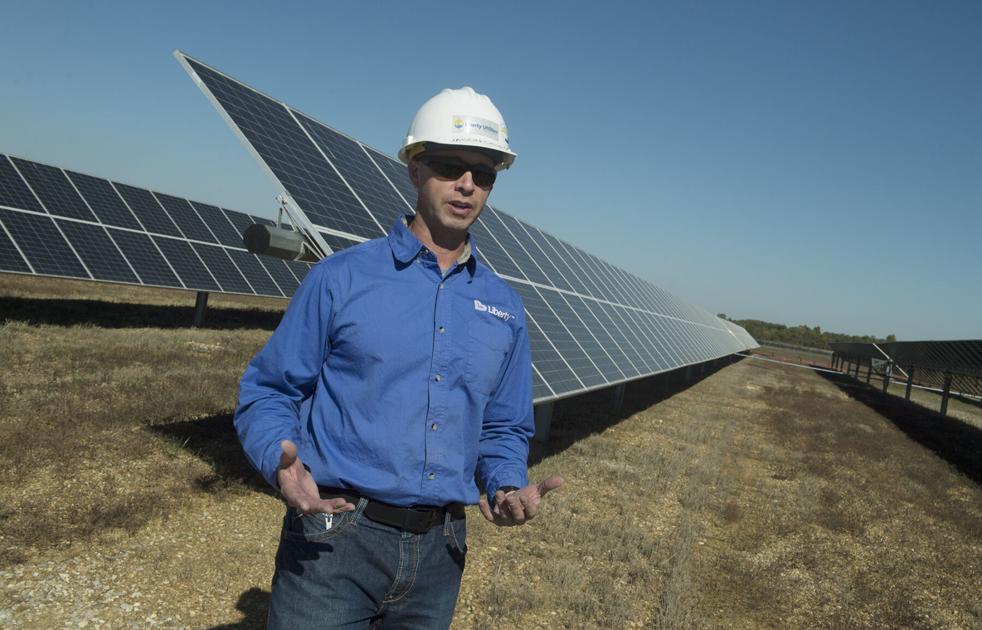 On a ground once saturated with talk about lead mining, many attendees from the 50+ attendees to this year's Joplin Region Chamber of Commerce's annual economic growth tour got their first glimpse of the site. futuristic solar powered by Liberty, the local electricity company, near Missouri. Highway 249.
The Prosperity solar installation, said Jason Osiek, project manager, is "our first in the region".
The 2.25-megawatt solar site covers around 11 acres out of a total of 60 leased acres, so there is room to expand, he said. In total, there are 5,700 panels, 400 watts per panel, and they catch glare from both sides – the top of the sun and the bottom of the light bouncing off the brown dirt below. The panels, which are remotely operated from the Liberty factory in Asbury, track the sun across the sky every day. The entire $ 3.2 million project was completed in January and was in operation soon after.
The site can supply the equivalent of 450 Joplin households. It was announced during a stop at Prosperity that on Thursday evening the solar farm was "fully subscribed" – it was at full capacity, with a 50-50 split between commercial and residential users, Osiek said. . Joplin residents and businesses can now put their names on a waiting list as the utility company plans to expand.
"We're starting to talk more about our future projects, and I think solar is where we're really going to be for the foreseeable future," said Shaen Rooney of Liberty, adding that they could either expand the Prosperity property, or build a second site elsewhere in Joplin. They are also looking at solar farms of other sizes based on energy needs, whether it is a solar area the size of a factory or a small area that could give a specific area a boost of energy. energy when needed.
"One of the tragic aspects of this industry is that a lot of our customers don't quite understand what we're doing because we're located in Asbury or Riverton," Rooney said. With solar power, "I think it puts us front and center and helps people get a bit more involved in where their energy comes from."
The Prosperity Solar Park was one of five scheduled stops during the annual tour, including a walk through the growing Crossroads Center business and distribution park east of the city. Bus tours often visit key manufacturing centers in and around Joplin.
Another stop was at the Schaeffler Group USA Inc., the ball bearing manufacturing plant located at the junction of Interstate 44 and Range Line Road. A tour was given of the recently completed $ 56 million expansion of the former FAG Bearing Corp. facility, with more than $ 20 million of equipment on display, some of which drew the admiration of a few members of the tour group.
Tony Robyn, executive director of MOKAN Partnership, said Schaeffler's multi-million dollar expansion was given the green light thanks to a partnership between the City of Joplin, the Joplin Area Chamber and MoKan officials, with efforts dating back to 2017.
"We just want to stress that these types of projects just don't happen; they take years to put together… and are now completed five years later, "said Robyn, who was the emcee on Friday's bus tour.
Schaeffler plant manager Matt Thompson said during the tour there was still work to be done before the expansion was 100% complete. COVID-19 has slowed construction work and deliveries, he said, but they predict it will all be over by the end of this year.
Other stops of the visit:
• Boyd Metals, the comprehensive steel center that opened in Joplin in 1995, including a tour of its warehouse expansion.
• An outdoor stop at the University of Kansas City-Joplin campus, during which an update on the new College of Dentistry – currently under construction – was given. He is expecting his first class – of 80 students – in 2023.
• Don's cold storage and logistics warehouse in Joplin-Webb Town Industrial Park has 220,000 square feet of space which opened in July at a price of $ 11 million. Managing Director Wade Steling said during the visit that the building is capable of holding 34,000 full pallets, with 30 trucks entering and exiting the mooring bay each day.
The bus also passed several ongoing construction projects, including the Jasper County Courts Building and Cornell Arts & Entertainment Complex along Seventh Street, Chik-fil-A restaurant on South Range Line Road, and Braum's Ice Cream & Dairy Store and Dover Hill Elementary School on Main Street.
Recently completed projects that Robyn highlighted during the bus trip included Casey's $ 62 million distribution warehouse, which serves 400 to 600 area convenience stores; Amazon's logistics center on Prigmore Avenue in Joplin; and the 225,000 square foot warehouse recently completed by Jasper Products, a project that took the Joplin partnership nearly three years.