Development of ICS to stimulate equitable economic growth: Minister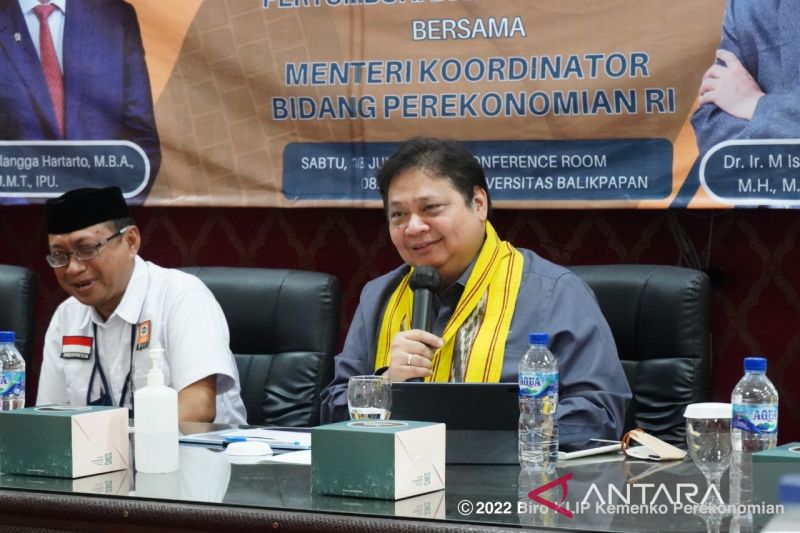 The development of IKN has been directed to a location outside the island of Java which is more spatially and economically balanced, as a stimulus for a fair distribution of national economic growth
Jakarta (ANTARA) – Coordinating Minister for Economic Affairs, Airlangga Hartarto, has said that the development of the capital of Nusantara (IKN) in Kalimantan will become a stimulus for an equitable distribution of national economic growth.
"IKN's development has been directed to a location outside the island of Java which is more spatially and economically balanced, as a stimulus for an equitable distribution of national economic growth," Hartarto said in a statement obtained here on Sunday.
According to Statistics Indonesia (BPS) data, in 2021-2022, about 57% of the country's population is concentrated in Java and its contribution to Indonesia's GDP is 57.78% in the first quarter of 2022.
Related News: ATR minister tasked with solving land issues for IKN development
During the same period, the island of Kalimantan contributed 8.29% to GDP, Sumatra 21.96%, Sulawesi 6.73%, Bali and Nusa Tenggara 2.66% and Maluku and Papua 2, 58%.
In the long term, IKN Nusantara is expected to serve as an economic super hub and national economic value chain.
The development of the economic super cluster will be developed into six strategic, resilient and innovative economic clusters, namely the clean technology industry cluster; integrated pharmacy; sustainable agricultural industry; ecotourism; chemicals and chemical derivatives; and low-carbon energy.
In addition, there are also two support clusters, namely 21st Century Education and Smart Cities and Industrial 4.0 Hubs.
"Moving the capital to Kalimantan Island and making it a super economic hub is a strategy to shift the share of economic growth and development from the west to the east (eastern region of Indonesia)," said he declared.
Related News: IKN Nusantara Electricity will use new renewable energy
The Minister reiterated that the collaboration and participation of all relevant stakeholders is the main key to the smooth development of IKN Nusantara.
"The contribution of various elements, including universities, is expected to accelerate the realization of investments in the development of Nusantara, which is in line with the government's development strategy," he explained.
Moreover, the development of the IKN would require quality human resources, especially among local residents.
Increasing the national education budget, he added, is a way for the government to improve the quality of human resources with an allocation of Rs 542.8 trillion in funds for education in 2022. .
Related News: Government speeds up development of basic infrastructure in new capital
Related News: Government to Complete Investment Incentives Program to Fund New Capital