Debt restructuring must not undermine confidence in government securities – Ken Thompson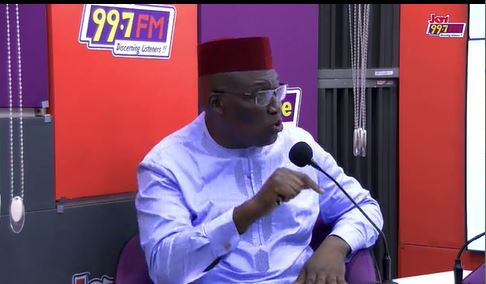 Delax Financial Services chief executive Ken Thompson said any debt restructuring the government plans to undertake must be done in a way that will not undermine confidence in investments in government securities.
"At the moment, if you touch local bonds or local government papers, it will have serious implications for the whole national treasury market and the economy," he said.
Mr Thompson was speaking on PM Express Business Edition with host, George Wiafe, on September 22, 2022 on the Joy News channel.
Advising the government, Mr Thompson has been pushing for aggressive measures to address Ghana's low income levels which he says could go a long way in tackling the current financial challenges facing the economy.
"Ghana got into this situation because we spent far more than the country raises in revenue."
He noted that companies are willing to support the economy with necessary taxes to improve the income situation in the future.
The challenge of debt restructuring
Some corporate finance books and documents have defined debt restructuring as a process in which a company or entity encounters liquidity or financial difficulties in refinancing its existing debt obligations in order to gain short-term flexibility and make its debt more manageable.
Debt restructuring generally involves direct negotiations between a company and its creditors.
Restructuring can be initiated by the company or, in some cases, be imposed by its creditors.
The IMF recently revealed that Ghana will only be able to complete its debt restructuring program after the World Bank and the IMF complete their assessment of Ghana's debt situation through the "Report on the debt sustainability".
This was after he asked the government to come up with a proposal on how it intends to restructure the country's growing debt stock.
Some financial observers have warned that debt restructuring could lead to shocks to the economy in the future.
Government and the Challenge of Debt Restructuring
Government sources say he has yet to make a decision on the approach and areas that will be affected by the restructuring exercise.
"We are awaiting the results of the IMF/World Bank debt sustainability analysis report, which will influence how the restructuring will be carried out for Ghana," a source said.