BDO promotes five consulting partners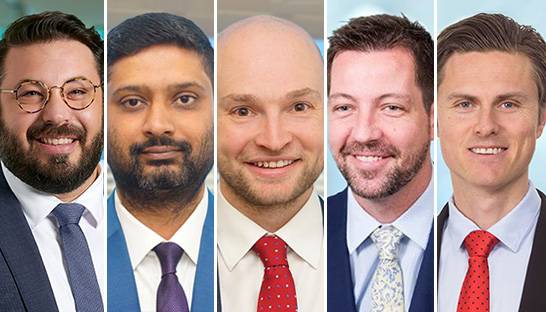 Approaching its "strongest year of growth in over a decade", BDO promoted 15 new partners as of July 1, bringing the size of its partnership to almost 250 in total.
The promotion cycle sees five new partners named to the Advisory leadership team, with the remaining partners split across the Audit, Business Services and Tax business units.
The advisory partner appointments of Joe Occhino, Srinidhi Rao, Jeff Marsden, Mathew Blum and Martin Emilson come six months after the earlier-year partner additions of Anders Magnusson, Rebecca Thomson and Quin Rijnders.
Joe Occhino
Joe is part of the People Advisory practice and specializes in workforce transformation and organizational performance. He is based in Brisbane.
Srinidhi Rao
Srinidhi is a member of the Risk Advisory practice specializing in cybersecurity and technology risks. He is based in Sydney.
Jeff Marsden
Jeff is a partner in the Corporate Restructuring practice and specializes in restructuring advisory, insolvency, loan due diligence, due diligence and refinancing services. He is based in Sydney.
Mathieu Blum
Mathew joined BDO in 2020 and is part of the corporate restructuring practice, based in Melbourne. He advises companies in financial difficulty on matters such as restructuring and emergency planning.
Martin Emilson
Martin is a member of Corporate Finance, based in Melbourne. He specializes in mergers and acquisitions, valuations, independent expert reports, purchase price allocation, etc.
The July 1st promotions round out a cohort of new partners recruited from outside, with 17 new leaders welcomed company-wide by competitors or industry players in the last twelve months. From this group, Simon Yoo (EY), Stefanie Merlino (PwC), Hamish Ogilvy (Deloitte), David Kwong (industry), Brett Spicer (industry), Ally Flint (Deloitte) and Chris Korte (industry) joined the Consulting division . .
In its last fiscal year, strong demand for its services saw BDO grow its partnership by 37 members, ending the year with a total of 246 partners, up from 217 in the same period last year.
Ahead of the official release of the financial statements, BDO managing partner Tony Schiffmann confirmed that 2022 would be the firm's best year in more than a decade. Earlier this year, BDO's global network reported record earnings of $11.8 billion, up 15% in US dollars from the prior year.
BDO is the world's fifth largest accounting and consulting network. In Australia, the firm ranks sixth.